a start of another day. late na kami na-gising pero ok lang naman. hahataw kami ng shopping today. eto ang mga napuntahan namin...
@ michaels:
this is our first stop for the day. the minute i entered the store i knew i'd find a lot of things i like there! the store was huge! and a lot were dedicated to crafts and related stuff.
considering that it's october, there are also a lot of halloween stuff available. i even saw a table near the counter where the kids are buying plastic pumpkins and painting them. i can't wait to see the actual halloween day celebration here.
we stayed more than an hour in this store! i won't tell you anymore the amount of stuff that i was able to get here. you might shout at me -- addict! hahaha!
@ best buy:
next, we went o best buy. this is a big electronics store here and they have a whole range of digital and electronic products. i'm tempted to buy a new digital camera after seeing the price. i stopped and reminded myself that i have to prioritize other things. if i still have an extra budget, then that's when i'll buy it.
@ shoe carnival:
we stayed long in this store also coz i had to choose the shoes i wanted as well as the ones that mama may want. knowing me, i had to through each rack trying to find the right style for me.
at least here, i knew there was a size available for me. unlike sa 'pinas! sasakit na paa ko sa kakahanap ng tindahan pero wala pa rin akong makita na may kakasya sa paa ko. eh ano ba size ng paa ko? size 9 lang po naman! na minsan eh hindi pa talaga kasya sa 9 na style kaya i end up buying a size 10 or 10.5! barko! hahaha!
di bale, sulit naman at nakabili ako ng sapatos. mura dito pero pag na-convert mo na, mahal din pala. hehehe! oks lang, at least meron na. pag may kanita na lang ulit, dagdagan ko na lang.
@ wal-mart:

ito na ang next stop namin. medyo malayo na rin ang nalakad namin which started from michaels. dagdag pa dun yung lakad habang paikot-ikot. hehehe!
when i entered, i realized how big nga talaga ang wal-mart. it was like a hypermart with everything in it. para nga din palang target but i find this bigger.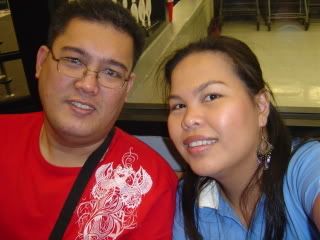 just going around the store is enough exercise i think. we started off on the first aisle and ended up to the last aisle more than an hour later. i also tried fitting some of the clothes there but i couldn't decide which one i like.
nelo was already tired so we decided to call charo and ask her to pick us up already. if i remember right, it was already 7pm and we started at 12nn!
ng dumating sila charo, we thought we'll be going home already, di pa pala. we stopped again in another store coz they had to buy pa something.
@ academy sports+outdoors
ito naman ay sports shop. from shoes to clothes and everything related to sports & outdoors. they will buy a set of shoes for papa & mama kaya sama na din kami ni nelo pagsundo sa amin. may sale din naman kaya lang parang di bagay sa paa ko.
i saw the shoes that paulo wanted. naku, mahal din pala. i'll probably buy that later on na lang.
sila papa & mama & si bernard were able to buy a pair of shoes for each of them. ikot-ikot kami din ni nelo but i decided later na lang din ako bili for myself.
after that, ayun, uwi na kami.
that ends the day for us. tired pero masaya naman sa dami din ng na-shop. bukas naman ulit!